RipJack Inn is The Place to Be!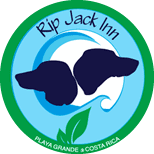 Founded in the spirit of adventure, RipJack Inn in Playa Grande is known for tropical bliss and friendly ambiance. Back in 2002, owners Dave and Annie Corredor packed their Toyota 4-Runner with their dogs, Ripley and Jack Brown, and trekked south. While Costa Rica was their final destination all along, Playa Grande captured both their hearts and imaginations. It was here they met their friend and partner Luli Andreozzi and decided to purchase a small 8 room beach-side hotel.
It's been more than 15 years since Dave, Annie and Luli have opened their doors and they now have 21 rooms, a large restaurant, two swimming pools and two yoga studios. They consider the hotel an extension of their home. The hotel staff treats guests just like family, ensuring all visitors have a memorable vacation. Whether you choose a standard room or cozy bungalow, this Playa Grande hotel aims to please.
Today the Corredor's, along with their bright-eyed daughter Maggie, extend the invitation to be part of the RipJack Inn family. We are just steps away from Playa Grande's main surf break, and we offer daily yoga classes in our beautiful shala. If you love to surf, if you love to practice yoga, and if you love great food, you'll feel right at home here.
Year after year, returning guests make their annual trip to this Playa Grande hotel, and new visitors discover what makes RipJack Inn the place to stay by the Pacific.
"In 2002 we left Northern California in our Toyota 4 Runner with Ripley ( blue Doberman ) and Jack Brown (german shorthair pointer) and started the biggest adventure of our lives! With Costa Rica as our destination we traveled all over and fell in love with Playa Grande. Upon our arrival we met our good friend and partner, Luli, who also moved here from Argentina in 2002.
We spent two years in Playa Grande prior to purchasing the hotel and were won over by the people and the beauty this small town has to offer. We hope you feel the vibe as well, please let us know if there is anything we can do to make your stay more enjoyable!"
Pura Vida,
Dave. Annie & Luli